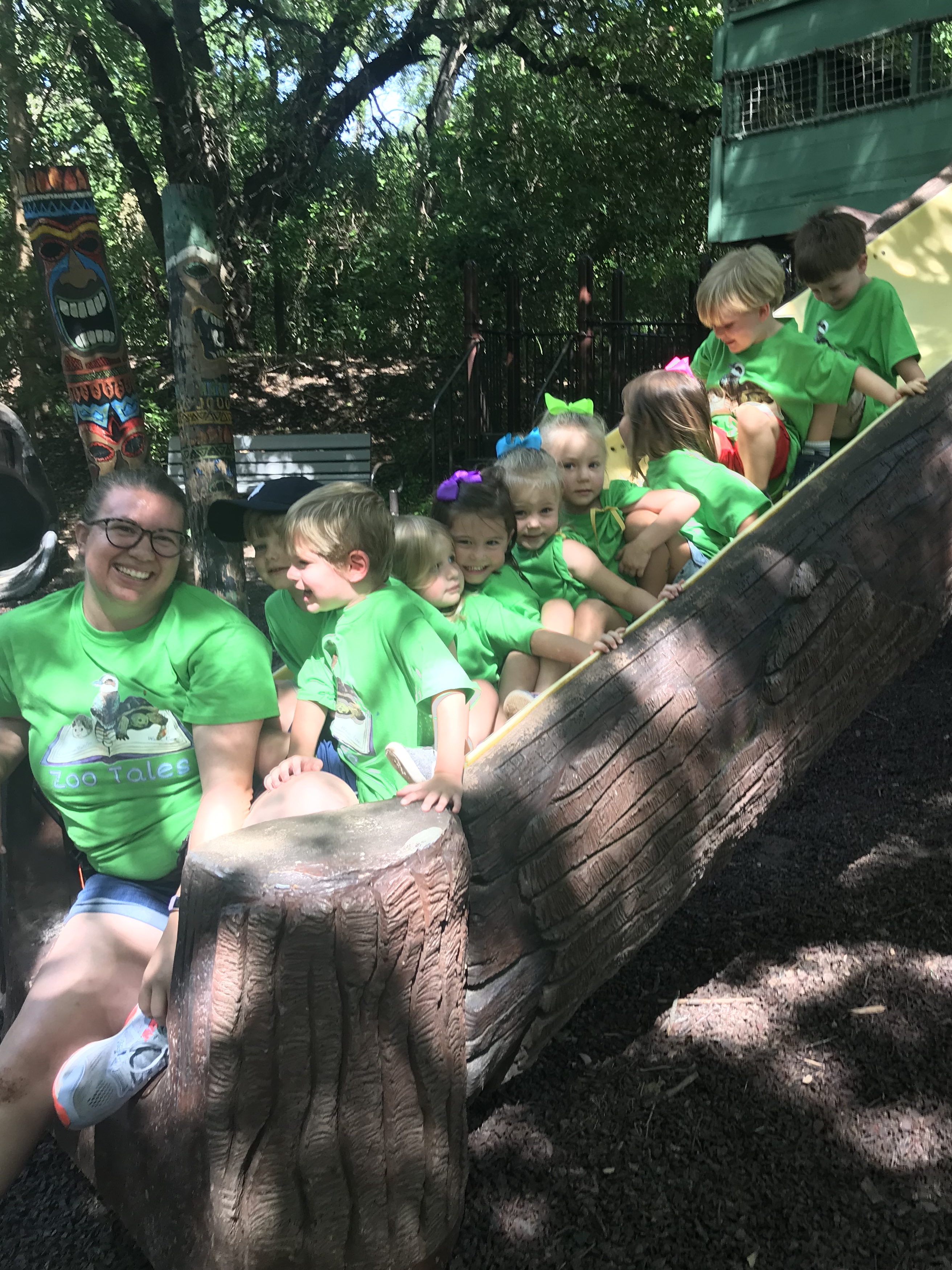 Registrations for 2024 will be available online February 1, 2024 at 8:00am
Children ages 3-14 can enjoy a wild adventure at Cameron Park Zoo during our Summer Camp programs.
Camp activities educate and excite children about animals and the natural world.
Each group of campers will enjoy wild learning experiences with activities specifically designed for their age group.
All campers will explore the zoo grounds, meet zookeepers, play games, participate in
hands-on activities and go behind the scenes of Cameron Park Zoo.
Snacks will be provided daily. We offer two different curriculums, June dates are all the same curriculum and July dates are all the same.
Accommodations & Accessibility
We believe there should be no boundaries to the Zoo Camp experience. Campers of all abilities are welcome to join. Trained staff and Zoo Crew supervise campers at all times.
The Zoo Camp experience includes:
Exploring Zoo grounds, which has varying smells, light, noise and temperature levels
Maneuvering on uneven terrain
Spending up to 2 hours at a time outdoors, covering anywhere from 1-3 miles per day
Participating in both group and individual activities
Moving to and from the floor or ground
Utilizing public restrooms
Maintaining a positive attitude and following staff instructions
All Zoo programs are designed for children who can remain in a group setting without adult involvement. In addition to age requirements, campers must be toilet trained and able to use public restrooms without assistance.
Our goal is to set up all campers and staff for success. To help us provide the best possible experience, please inform us of all special considerations prior to participation. This may include information on allergies, accessibility concerns, behavioral, psychological or emotional conditions as well as any other special needs. Please contact us prior to registration at conniek@wacotx.gov or 254-750-8467 to make an accommodation request. We are happy to work with households to make Zoo Camp accessible to campers with varying needs. We are, however, unable to provide one-on-one support or supplementary services.
Age Groups:
Age requirements are not negotiable and are strictly enforced. Campers must fall within the specified age category on the first day of the camp session they are attending. Each topic is developed with age-appropriate techniques and measures.
3-4 year olds
5-6 year olds
7-8 year olds
9-11 year olds
12-14 year olds
Adventure Camp Fees:
Full Day: 9:00-4:00 – $210/Members ~ $230/Non-members
Half Day: 9:00-12:00 – $130/Members ~ $150/Non-members
Explore Waco: 9:00-4:00 – $325/Members ~ $350/Non-members
Zoo Tales: 9:00-12:00 – $130/Members ~ $150/Non-members

*Please note that the half day camp is not a separate camp, it is the morning portion of our full day camp.
Children will only be placed together if they are in the same age group as listed and based on availability.
Zoo Camp Cancellations, Session Date Changes and Refunds
In the event that you would like to make a change, please do so in writing and include your
child's name, grade, and session date(s). You may email these requests to conniek@wacotx.gov
or education@cameronparkzoo.com.
To insure program quality for all participants, we will not make exceptions regarding class sizes. Please note that campers may not make up missed days in another week of camp. Please also take into consideration the following policies when changing your session date(s) or canceling your registration:

Session Date Changes:
Due to the number of session date changes requested, we will allow one change at no cost and
each additional change will be charged $20.00. We will change the session date for your child's
zoo camp only if there is an available spot for the week you are requesting.

Cancellations and Refunds:
Due to the high demand for camp spaces, all sales are considered final. Patrons who provide a written notice of cancellation to conniek@wacotx.gov on or before May 1 will receive a 50% refund of their camp registration fees. No refunds will be issued after this date, including participants who miss all or partial programs due to illness. Cameron Park Zoo reserves the right to cancel any program due to minimum enrollment, inclement weather, or unforeseen circumstances, in which case a full refund will be issued. Cancellations are official upon receipt of confirmation from Cameron Park Zoo.
Behavior Policy
We expect campers to always act respectfully when they are on Zoo property or participating in our programs. Campers are to behave in a kind, responsible way and respect the rights and dignity of others.Campers should talk to a camp counselor if they are uncomfortable with any experience or need assistance while at camp.
Examples of unacceptable behavior (but not limited to):
Refusing to follow behavior guidelines or camp rules
Using profanity, vulgarity or obscenity
Stealing or damaging property (personal or camp property)
Refusal to participate in activities or cooperate with staff
Disrupting a program
Leaving the group without permission, not staying with the group
Endangering the health and safety of children and/or staff
Unkind, mean or harmful behavior towards campers or staff
Fighting, hitting, biting and/or spitting
Behavior Procedures
Conflicts between campers are a normal part of growing up. At Zoo Camp we believe conflict resolution between campers should be the first step to resolving issues. If the conflict continues, camp counselors will take the following actions.
Staff will redirect the camper(s) to more appropriate behavior
If inappropriate behavior continues, the camper(s) will be reminded of behavior guidelines and camp rules, and the camper(s) will be asked to decide on action steps to correct his/her behavior
If a child's behavior still does not meet expectations and is affecting the experience of other campers, he/she will be referred to one of the Education Department supervisors
If inappropriate behavior continues, as a final-action step the camper(s) will be sent home and possibly dismissed from camp.
Camp fees are non-refundable if a camper is sent home for disciplinary reasons. Physical violence or harmful language toward another camper or staff member will result in immediate dismissal from the camp program.
Zoo Camp Frequently Asked Questions
Are there extended camp hours?
We do not offer drop off outside of camp hours, 8:45 am-4:00 pm.
How will drop-off and pick-up work?
Can I pick up my child early?
We plan our days to make full use of our time. As such, pick-up and drop-off outside of normal hours may lead to missed activities for you camper.
We will do our best to accommodate pick-up and drop-off outside of normal hours, though we cannot accommodate early pick-up between 11:15 am-1:00 pm or between 3:00 pm-3:45 pm.
Please contact conniek@wacotx.gov to arrange alternate pick-up or drop-off times.
What will a regular day look like for my camper?
A regular camp day varies by theme, but will include tours throughout the Zoo. Information and stories will be shared that relate to each camp's theme. Games and activities will further support each theme. Throughout the week, campers will have visits from our Animal Ambassadors, keeper talks and behind the scenes tours. The days for these activities vary based on camper age.
Who will be supervising my campers?
Camp Counselors and Zoo Crew undergo training on topics including animal information, positive behavior management techniques, critical and scientific thinking and zoo procedures.
Cameron Park Zoo Camp operates under a Single Skill Exemption from the Texas Department of Health and Human Services. Zoo Camp is not a child-care facility, day care center or licensed before or after school program. Risks associated with participating in Zoo Camp may include, but are not limited to, trips and falls, insect bites, heat exposure, splinters and minor first aid injuries resulting from supervised outdoor play.
What are the age groups and camper to counselor ratio?
3-4 year olds, 10 students maximum, 1 Camp Counselor, 2 Zoo Crew
5-6 year olds, 12 students maximum, 1 Camp Counselor, 2 Zoo Crew
7-8 year olds, 15 students maximum, 1 Camp Counselor, 2 Zoo Crew
9-11 year olds, 15 students maximum, 1 Camp Counselor, 2 Zoo Crew
What should my camper bring each day?
Zoo Camp packing list:

Lunch (for full day campers)

Additional items campers are welcome to bring

Weather appropriate gear like hats, coats, raincoats, sunglasses, etc.

Please do not bring the following items:

Anything you or your camper would be upset to lose
What should my camper bring for lunch?

Zoo Camp is a high-energy experience! You can help us make it a successful experience by providing your camper a solid breakfast before camp and sending a solid lunch that you know they will eat. Camp is not an ideal place to expose campers to new foods or test out new lunch options. Lunches will be stored in a cooler. Additionally, we do not have the facilities to microwave or reheat camper lunches.
When does my camper need to wear their camp shirt?
We ask that campers wear their shirts on Tuesday for group pictures.
What to do in the event of severe weather?
If Cameron Park Zoo is open, Zoo Camp is operating. Any closings will be communicated via email. Please send campers in appropriate weather gear each day.
In the event of severe weather while campers are on grounds, they will be escorted into indoor areas. Activity times will shift to allow campers to continue to enjoy their day while waiting for the worst of the weather to pass.
How can I get in contact with you?
To contact any members of our Zoo Camp team, please email conniek@wacotx.gov or call us at 254-750-8467.