Orangutan SSP Workshop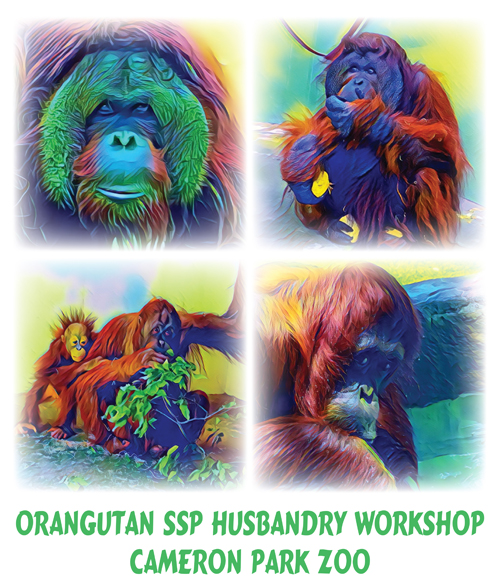 Cameron Park Zoo wants to welcome you to the registration page for the 2023 Orangutan SSP Workshop. This year's workshop will take place October 16-20, 2023.
---
Registration Options
Full Workshop (10/17-10/20)– $275.00
Single Day Workshop– $100.00
T-shirt– $20.00
International Registrants (Virtual Option)– $250.00 per facility
Conference sessions will be available for viewing live in Central Standard Time Zone (US & Canada)
Conference sessions will be transmitted in English only
International registrations do not include a conference t-shirt
Register Here (Virtual Option)
Want to support the conference, but aren't attending? Purchase a conference t-shirt!
---
Download the conference app:
Get our official event app,
For Blackberry or Windows Phone,
Click here
For feature details, visit
Whova
---
Conference Schedule
October 16th
Steering Committee Meeting (closed)
Icebreaker beginning at 6pm

October 17th
Presentations, Panel Discussions and Conservation Keynote Presentation by Jamartin Sihite
Free Evening or Pub Crawl

October 18th
Presentations, Panel Discussion, and Training Keynote Presentation by Rick Hester
Banquet and Silent Auction at Cameron Park Zoo

October 19th
Presentations, Panel Discussions, and GRAZE Keynote
Free Evening or Going to Main Event (https://www.mainevent.com/)

October 20th — Zoo Day
Orangutan Cardiac Training Presentations and Demonstrations
FAID Tabletop
Caring for Keepers Talks (Focusing on keepers themselves and their mental health)
Behind the Scenes Tours
Brew at the Zoo Event at 6pm (optional, additional fee at member's rate)
---
Abstract Presentation
Interested in submitting an abstract presentation? Please submit your presentation via this form:
---
Hotel Information
We have a block of rooms reserved at a discounted rate through Hilton Waco. The discounted rate is available until August 28th at 4:00 p.m. To reserve your room, please book through this link: Hotel registration.
Other hotels located near Cameron Park Zoo include:
Courtyard by Marriott – 1.2 miles
101 Washington Ave.
254-752-8686
Resident Inn Waco – 1.6 miles
501 S. University Parks Dr.
254-714-1386
Hotel Indigo Baylor – 1.7 miles
211 Clay Ave.
254-754-7000
Red Roof Inn Waco – 2.6 miles
720 Martin Luther King Dr.
254-752-3388
Hampton Inn Waco North – 4.8 miles
4259 N IH-35
254-412-1999
Holliday Inn & Suites Waco Northwest – 5.2 miles
1801 Development Blvd.
254-799-9997
---
Keynote Speakers
Training Keynote Speaker: Rick Hester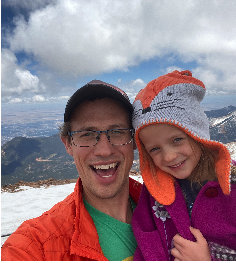 Rick Hester is the Curator of Behavioral Husbandry for the Cheyenne Mountain Zoo in Colorado. He oversees all the zoo's behavioral programming. His work includes the zoo's animal training for husbandry, medical, and public show behaviors, enrichment, developing programs to improve problem behavior situations, the zoo's formal animal welfare assessments, and exhibit design for behavior goals. He has worked at Cheyenne Mountain Zoo since 2006. Much of that time he was an animal keeper caring for a wide variety of species, including small primates, great apes, penguins, African lions, and bears. In 2015, he started working with Dr. Susan Friedman and began to understand the importance of behavior analysis and its application for animals in human care. He is adjunct faculty at Colorado State University in the Department of Biology and a consultant and course co-instructor for Susan Friedman's Behavior Works LLC.
---
Keynote Speaker: Jamartin Sihite
Dr. Jamartin Sihite is the CEO of the Borneo Orangutan Survival Foundation and President Director of a company focused on the restoration of orangutan habitat in Indonesia – PT. RHOI. The BOS Foundation is an Indonesian non-profit organization dedicated to the conservation of the Critically Endangered Bornean orangutan and its habitat and the Foundation is currently caring of almost 450 displaced or orphaned orangutans with the support of 400 highly dedicated staff. As CEO of the BOS Foundation, Dr. Sihite manages three orangutan reintroduction forests in Borneo, where his team has reintroduced almost 500 rehabilitated orangutans, and a 309,000-hectare peat swamp forest in Central Kalimantan, which provides habitat to over 2,500 wild orangutans. The Foundations' work also extends to the management of a network of orangutan pre-release islands, a long-term orangutan sanctuary at Salat Island and two orangutan rescue and rehabilitation centers at Samboja Lestari (East Kalimantan) and Nyaru Menteng (Central Kalimantan). Dr. Sihite was awarded the Pongo Environmental Award in 2020; Virginia McKenna Award for Compassionate Conservation in 2019 and the Great Apes Survival Partnership (GRASP) – Ian Redmond Conservation Award in 2015 for his tireless efforts to protect Bornean orangutans and their habitat.
---
Erin McNally, LVT (she/her)
Director of Crisis Response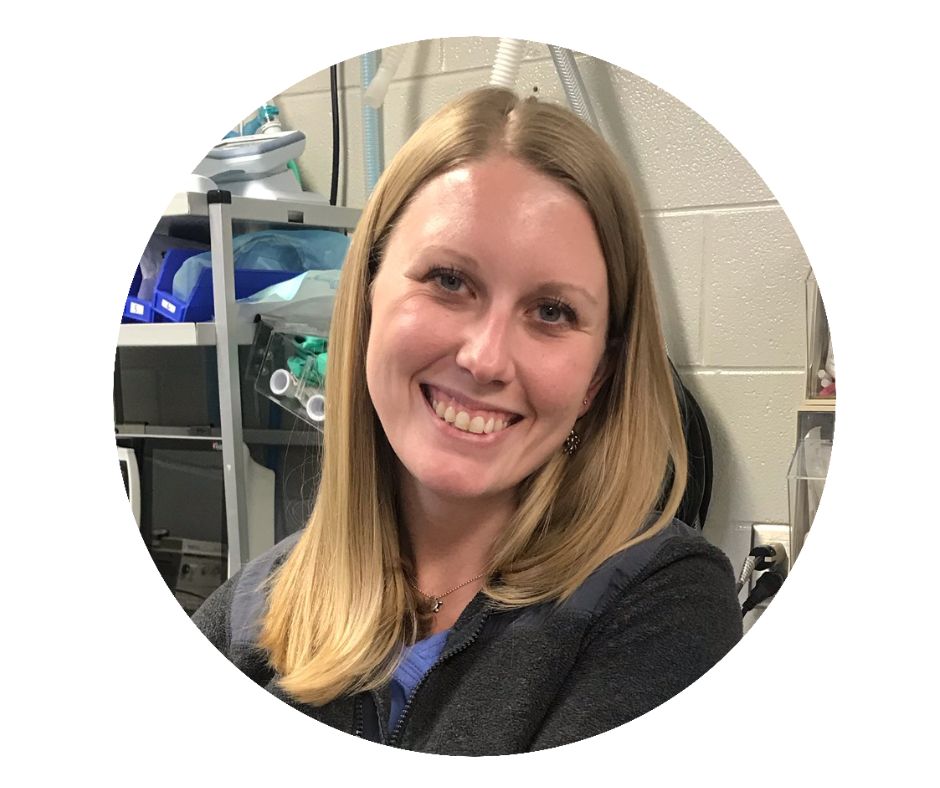 Erin McNally is a Credentialed Veterinary Technician working through Wildlife Aquatic Zoo Relief as a Relief Veterinary Technician at Zoo and Aquarium facilities across the country. Erin has worked in the Zoo and Aquarium industry since 2009, starting as a Veterinary Technician at the Toledo Zoo in Ohio. Erin has since worked as a Veterinary Technician at the Palm Beach Zoo in Florida and the Riverbanks Zoo in South Carolina before moving to Colorado. Since starting her career in 2009, Erin has been through multiple types of crises which has inspired a passion for mental health support in this field.
In 2019, Erin left her conventional zoo veterinary technician position to pursue a career choice that
would allow the flexibility to share her extensive knowledge and expertise in zoological medicine, zoo tactical firearms training, facility safety, zoo and aquarium disaster response, and industry mental health support. Erin is a Certified Critical Incident Debriefer and is the Director of the GRAZE Critical Response team. Erin has seen the benefit to having people with firsthand knowledge of this industry being the
ones to provide on-site support. Having responded to assist industry colleagues post incident has motivated Erin to continue to build on resources available within the industry.
---
Shannon McKinney (she/her)
Director of Proactive Programming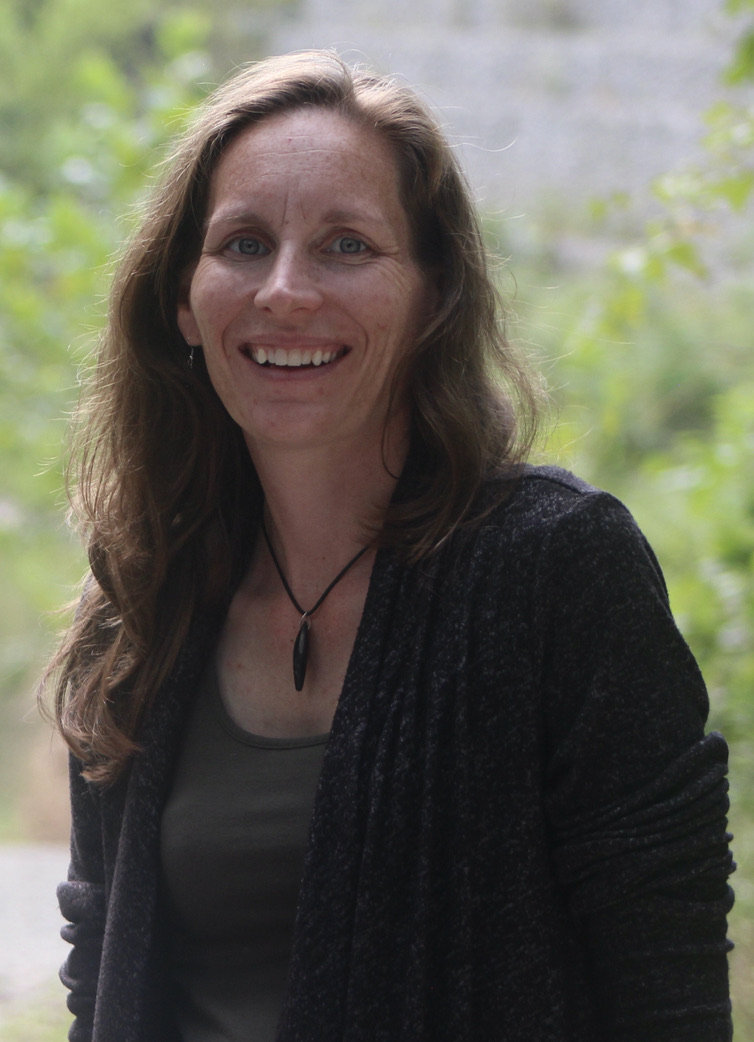 Shannon McKinney, Certified Professional Coach. Shannon has worked in the Zoo and Aquarium
industry since 2006, starting as an Animal Keeper and working her way up to Chief Animal Care Officer at Blank Park Zoo. Shannon left Blank Park Zoo in September 2021 to pursue coaching, consulting and training zoo and aquarium professionals full-time. Shannon has a Master Degree in Wildlife Ecology from Iowa State University. Shannon is a Certified Critical Incident Debriefer and is a part of GRAZE Critical Response team. Shannon served 12 years in the Iowa Army National Guard, deploying to both Iraq and Afghanistan. Shannon uses her diverse skills and experiences to help zoo and aquarium professionals develop and implement science proven strategies to manage cumulative stress and build resiliency through professional coaching, training programs, workshops, and speaking engagements.
---
Hannah Fullmer (she/her)
Director of Supportive Services and Mental Health First Aid Instructor
Hannah Fullmer, attended Delaware Valley University and studied Animal Biotechnology and
Conservation; Zoo Science, graduating in 2008. Before which she was already involved with her
community outreach programs based in animal behavior and behavioral therapy at local domestic
animal rescues and horseback riding centers for handicapped children. During her term, she had a
number of internships and volunteer positions ending up with part-time/seasonal positions at
Philadelphia Zoo and then Lehigh Valley Zoo. Eventually she worked her way up to obtaining a full-time
position and developed the training and enrichment programs and assisted in the management of their
safety committee. She has worked in a number of institutions since and over multiple tiers of front line
keeper, lead keeper, and husbandry management. She has also attended AZA courses based in
behavioral husbandry and has the appropriate credits for a Certification in Behavioral Husbandry
supported by the AZA. She truly enjoys continuing her education concerning animal husbandry as well as
many safety-based courses for the most current safety practices and policies, including gun handling and
safety, mental health support, trauma response, and first aid/CPR training. Hannah is also an instructor
and assistant course facilitator for the Felid TAG Basic Husbandry Course and has been involved with the
TAG over the last six years. Currently, Hannah is working toward her Masters in Clinical Mental Health
Counseling, is a Certified Debriefer for the GRAZE Critical Incident Response Team, and she is our
Certified Mental Health First Aid Instructor for Adults; supported by the National Counsel for Mental
Well-being.